Inspiring Pupils Make Care Home Residents' Day With Community Visits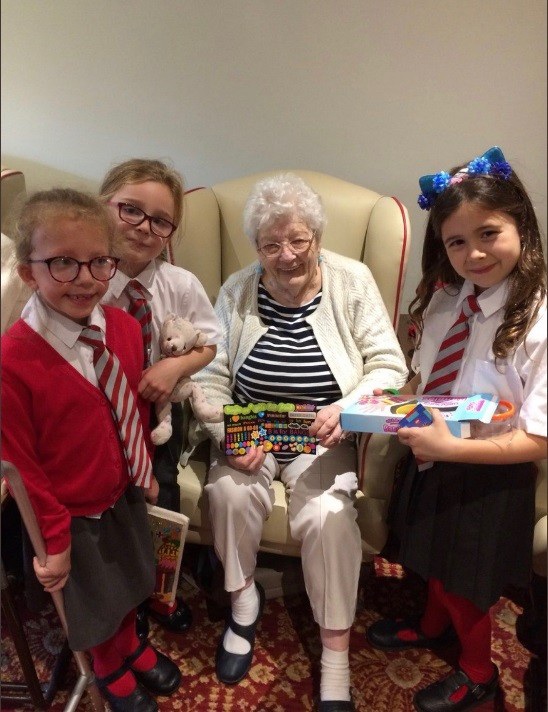 Primary school pupils have been playing games, swapping stories and even completing crosswords with care home residents.
Children from all ages at Urmston Primary School, Wycliffe Road, Trafford, are visiting residents at Urmston Manor Care Home.
Simon Parker, Acting Headteacher of Urmston Primary, said the class visits were a way for the school to enhance their engagement with the community whilst giving pupils the opportunity to display school values through their kindness and respect for others.
He said: "These values are embodied in our motto, 'Growing Together. Empowered to be more.' We want our pupils to realise that there is more to good behaviour than just listening well in class or working well on their maths and literacy.
"We decided it would be great for all of our classes to come and visit the home and be active in 'being more'.
"It was heartwarming to see. At first the children and residents were a bit tentative but it took no time at all for relationships to start blooming. The residents were great and the care workers were absolutely amazing. On the way home the children were buzzing and so excited that they could share some of their likes with others. Children are happy making other people happy.
Martyn Davis, owner and manager of Urmston Manor, Church Road, Trafford, said residents and children had both benefited from the visits.
He said: "It's just been great for the children to learn about elderly people and about social care. There is a lack of understanding about it so it's really great for the children to meet the residents.
"All the residents reacted to it really, really well.
Councillor Joanne Harding, Trafford Council Executive Member for Adult Social Care, said: "Seeing the children interacting with the residents is truly delightful.
"The Council's social care team strongly encourage care homes to reach out to all parts of the community and help enrich the lives of the residents so this is heartening to see."
Each class at the school will be visiting the care home this year, while the school and care home are planning further events such as a Christmas concert and Easter bonnet parade.